On the morning of April 26, a delegation of the World Bank visited Quang Trung Software City (QTSC) to learn about its operating model.
Joining the delegation were senior specialists in the field of digital development and technology consulting from World Bank Group and World Bank Vietnam. Welcoming the delegation were Mr. Lam Nguyen Hai Long - CEO of QTSC, Mr. Phan Phuong Tung - Director of Ho Chi Minh City Digital Transformation Consulting and Support Center (DXCenter) – a science–technology center under QTSC.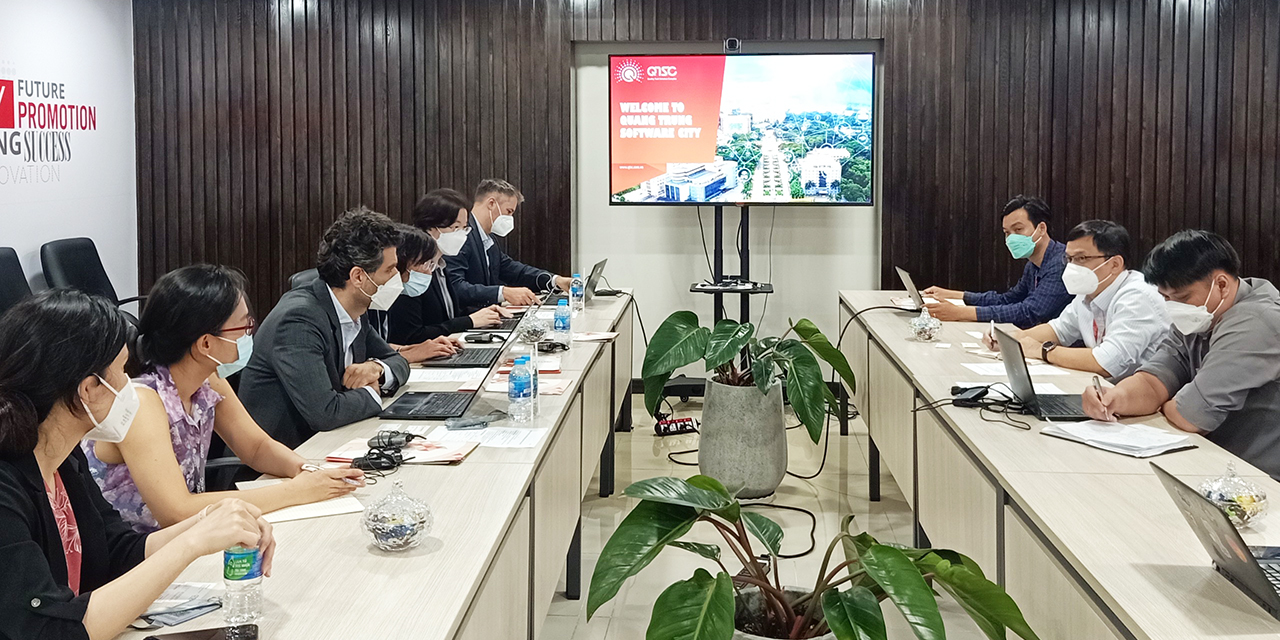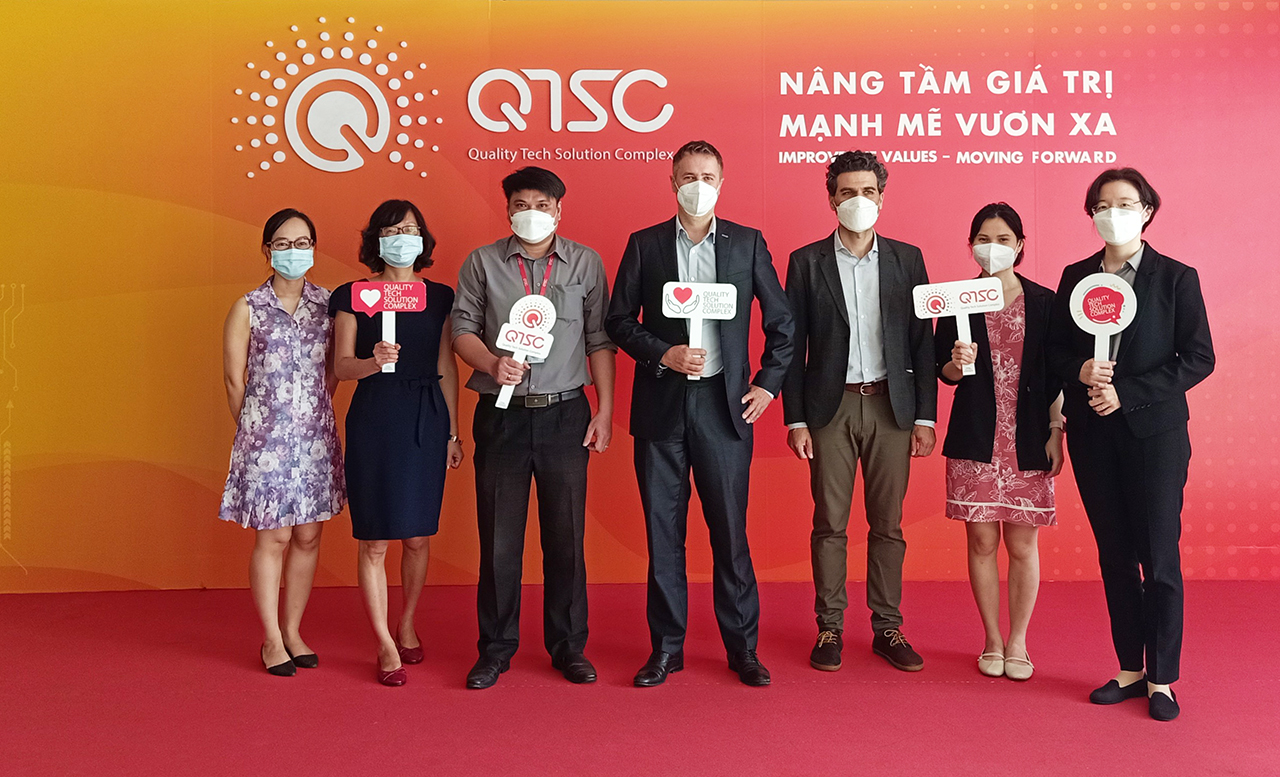 The delegation working at QTSC
After listening to an overview of the formation and development of QTSC and QTSC Chain, the delegation was introduced by Mr. Phan Phuong Tung about DXCenter's operating model, mission, role, advantage, as well as consulting and supporting activities for digital transformation in priority fields that DXCenter is focusing on. In the meeting, the delegation was very interested in this model and asked a lot of questions to better understand the upcoming development orientation of the center.
Following that, DXCenter - an official unit of Ho Chi Minh City - performing a digital transformation mission, contributes to the completion and development of the digital transformation ecosystem in Vietnam, especially in Ho Chi Minh City and the Southern Key Economic Zone. It aims to provide at least 1,000 products for digital transformation activities and 100 successful digital transformation models in various fields and prioritize serving SMEs and organizations seeking support for digital transformation, digital businesses seeking potential customers for digital transfer, etc. DXCenter will focus on five fields in the early stage, including Edutech, Agritech – Foodtech, Natural resource and Environment and Digital Solutions for enterprises, and training courses for household businesses.
At the end of the working visit, the delegation moved to visit TMA Solutions - one of the largest software outsourcing companies in Vietnam with 3,500 engineers. TMA Solutions was established in 1997 to provide quality software outsourcing services to leading companies worldwide.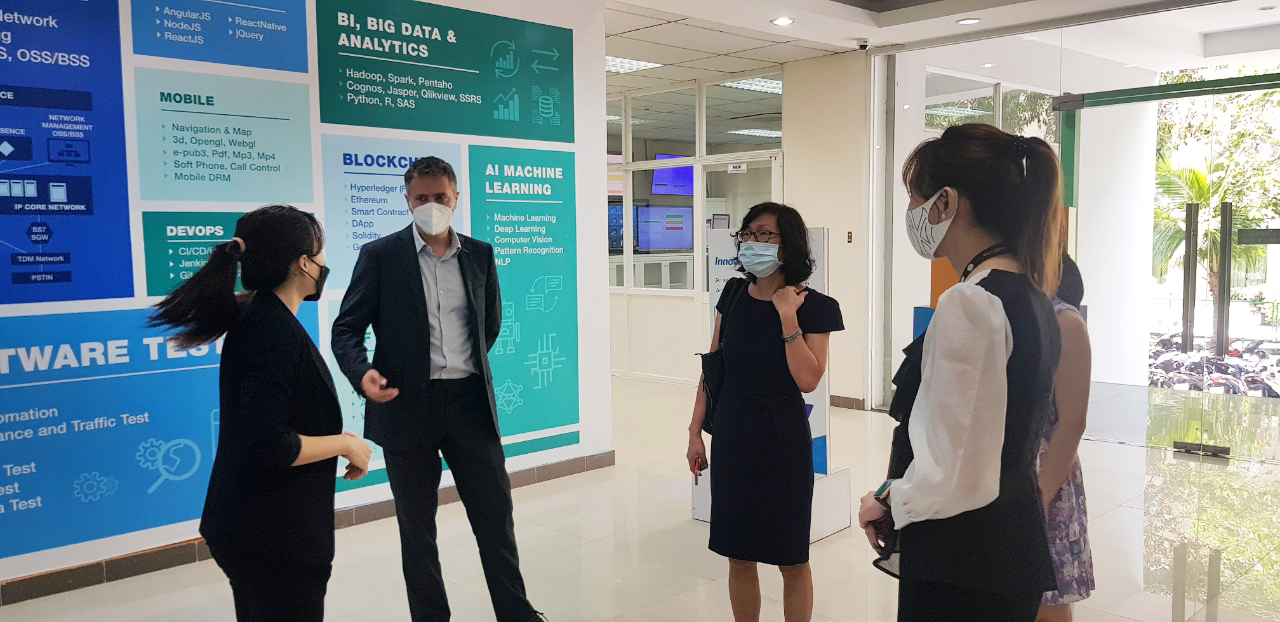 Visiting TMA Solutions
Source: QTSC
Latest news
Japanese business delegation paid a working visit to QTSC

On the afternoon of June 15, a delegation of Japanese businesses operating in different fields such as construction, food, technology... visited and worked at Quang Trung Software City (QTSC) to learn more about potential cooperation and investment opportunities.

German tech startups visited QTSC

On the afternoon of June 13, a startup delegation from Germany led by the representative of UEH Institute of Innovation - University of Economics Ho Chi Minh City to visit Quang Trung Software City (QTSC).